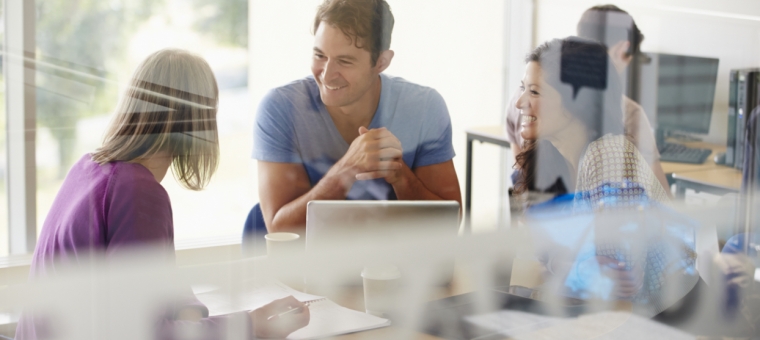 Qualitative well-being enquiry: interviews and group discussions
The psychosocial well-being in your organisation can also be charted using individual interviews or group discussions. This method is often used in small organisations (< 20 employees), in specific teams or to focus in on specific topics.
As with Pulso's quantitative survey, qualitative research investigates:
to what extent do my employees experience stress? Are they at risk of a burn-out? Are they experiencing undesirable behaviour at work, such as harassment?
how motivated and enthusiastic are my employees? How involved to they feel in their job and their organisation?
factors that influence well-being at work: work organisation, work content, work requirements, working conditions, work relationships (the 5 Ws).
The aim of the questions asked during these discussions is to chart the task load, task motivators, the experience of the team and the managers, and the organisation's influence and the context. Consequently, you know which topics to prioritise when making improvements, as well as the positive points expressed by your employees during this participatory process.
More suggestions for improvements
In contrast to a quantitative enquiry, during the qualitative enquiry a lot of attention is paid to finding constructive suggestions for improvement. This gives you access to suggestions from ground-level employees and increases employee involvement and participation.
What does a qualitative survey look like?
A qualitative survey can be conducted
through group discussions, individual interviews or a combination of the two
with all of your employees or by means of (representative) samples of your organisation.
as a follow-up to a quantitative survey using the S-ISW, to explore the results in more depth, to gain a better understanding of the issues at hand and to gather ideas for improvements in a constructive manner.
Professional analysis, guidance, advice
Pulso's consultants provide guidance throughout the entire process.
Using content analysis, the data collected is converted into a comprehensive and detailed report, which is subsequently discussed together.
The Pulso consultants will draw on their own expertise to give you the advice you need.

Contact us