WOD Well-being & Organisational Dynamics Tool
An all-in-one tool to optimize the well-being and dynamics within your organisation.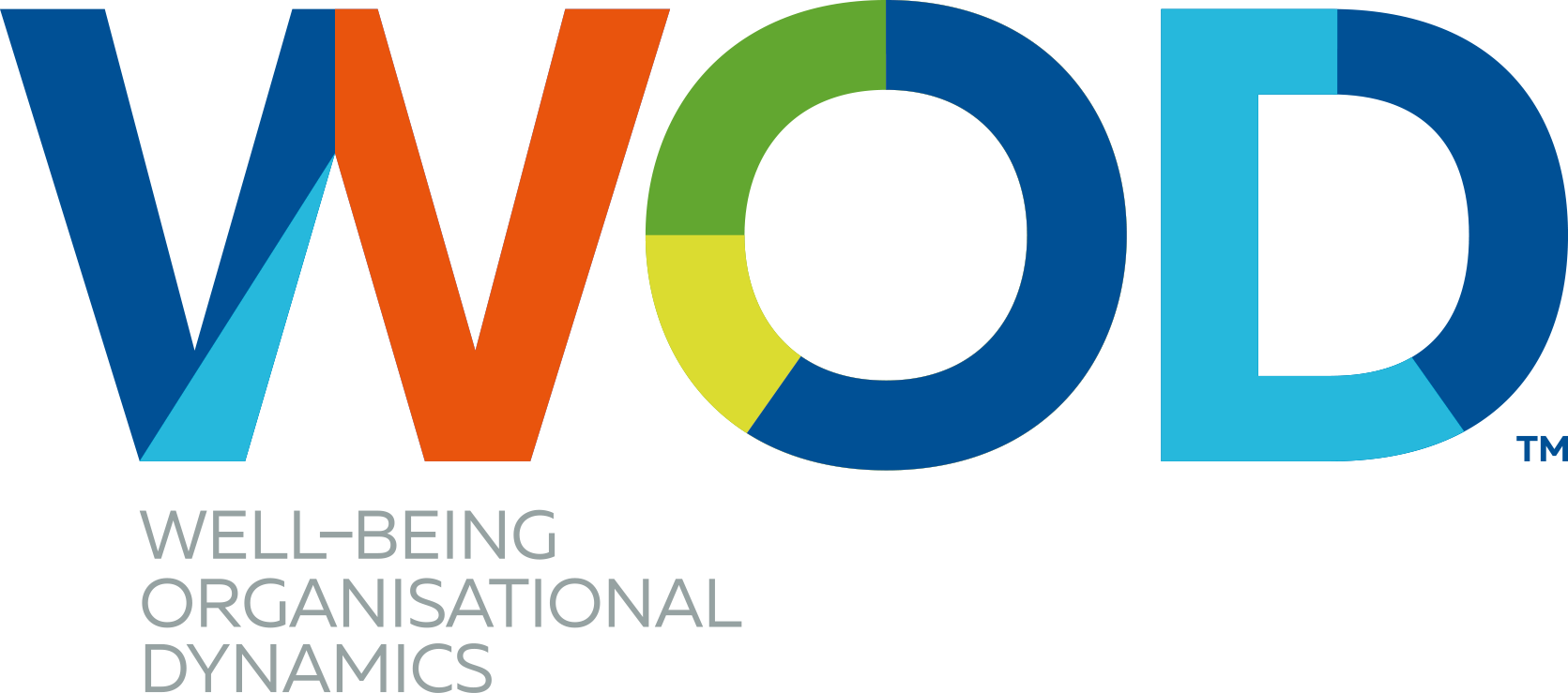 Well-being
Take the pulse of your company. Measure a wide variety of well-being indicators. Compare your results with a relevant benchmark. Reveal your organisation's strengths to reinforce them. Identify attention points and populations at risk to take appropriate actions.
Organisational
Align well-being and performance. Discover and monitor your Key Performance Indicators. Identify your main drivers to manage change. Optimise the impact on well-being and improve your organisation's performance in this way.
Dynamics
Capture today's dynamics to prepare for tomorrow's successes. Explore your interactive dashboard to identify drivers and well-being indicators for any group according to your needs (Location/Department/Team/Gender/ Age group/Specific working conditions…). Understand the specific dynamics of your organisation and the different teams. Find out the most meaningful associations to set up targeted actions.
Practical, fast and with professional guidance
Your employees are invited by Pulso to complete the WODTM questionnaire. This can be done online or via paper, and requires a maximum of 15 minutes from your employees.
Immediately after collecting the data, all results for your organisation will be available in a clear online dashboard.
These results give you a clear insight into the most important well-being indicators (engagement, job satisfaction, stress, burnout, absenteeism, etc.), and the most important levers, priorities and target groups for your organisation.
The WODTM tool thus supports you in setting up or further optimising your well-being policy.
Throughout the entire process you can count on thorough guidance from the experienced Pulso consultants.
Evidence based
The WOD questionnaire is based on theoretical models in the domain of organisational psychology and is scientifically validated through several research projects.
The WODTM questionnaire is based on Pulso's well-known S-ISW © (Short Inventory on Stress & Well-being) questionnaire, developed with the support of the European Social Fund and recognised as a tool for conducting psychosocial risk assessments.
The WODTM questionnaire was further adapted and expanded with the most up-to-date insights regarding well-being and engagement at work.
Powerful and adaptable
The WODTM-tool is a powerful tool to capture and to understand the complexity of your organisational dynamics.
The WODTM questionnaire consists of 100 questions:
27 well-being items
60 work environment drivers
13 sociodemographic variables
It is possible to adapt the WODTM questionnaire and expand it with additional questions tailored to your organisation.
Pulso also has short questionnaires (modules) that can be added to the WODTM questionnaire:
Absenteeism
Undesirable behaviour at work
Management style
Change management
Safety at work
Age-conscious staffing policy
Ergonomics
Life style
Support private life and society
Individual resources
Dynamic and interactive
With the WODTM tool you immediately receive results for your organisation and for all your subgroups, clearly presented in a dynamic and interactive dashboard. In this way you can quickly respond to what is going on in your organisation and to the needs of your employees. You can further analyse, interpret and test the results against your hypotheses.
Robust benchmark
You can compare the results of your organisation and of your subgroups with a robust external benchmark.
In addition, you can also compare your different subgroups with each other (internal benchmark) and you can closely follow the evolution over time.
Actionable coaching tool
The WODTM tool is a unique tool that gives you a clear picture on the well-being of your employees and allows you to take appropriate actions. The experienced consultants of Pulso support you, both in drawing up the action plan and in implementing and evaluating the actions.
Personal advice for every employee
For each individual employee, an individual feedback report with personal results and advice is available immediately after completing the survey.
Pulso can also further support individual employees with specific needs.
Anonymous and confidential
As an external and neutral partner, Pulso guarantees confidential treatment of the data and results of your employees. A necessary condition for participants to complete the questionnaire in fairness.
Access to the online dashboard is also secured.
Pulso maintains high standards for Personal Data Protection.
International
The WODTM tool is available in several languages and is supported by an extensive international network of partners.
More information can be found on https://wod.pulso-europe.eu/