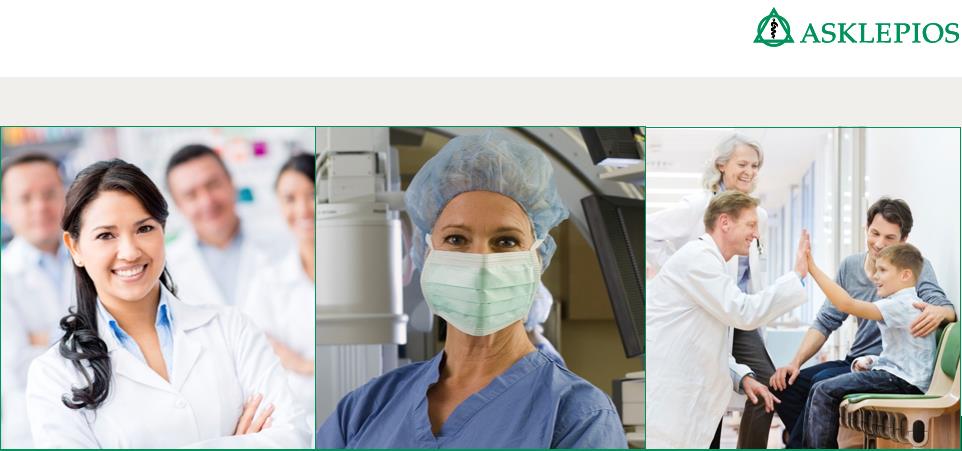 Pulso Europe underlines its ambitions with a new key shareholder
Large German hospital group "Asklepios Kliniken" acquires majority stake in Leuven University spin-off, specialised in psychosocial well-being.
Pulso Europe is a reference company in Employee Assistance Programmes (EAP), innovative assessment and e-mental health tools. The Company is already market leader in this sector in the Benelux and Portugal and has a well-established position in South-East Europe. Asklepios' ambition is to turn Pulso Europe into the market leader for the whole of Europe..
For that goal, Pulso Europe will create synergies with the German EAP providers, which already are part of the Asklepios group such as Insite and Talingo. For optimising its technological capacity for e-mental health, tool development and counselling offering, Pulso Europe will connect with other companies of the Asklepios group, such as the Dutch e-health provider Minddistrict and Samedi from Germany.
The three current partners of Pulso Europe Dirk Antonissen, Bénédicte Taymans d'Eypernon and Marcel Willems remain minority shareholder of the Company.
Asklepios is increasingly covering the preventive and aftercare treatment of clients with mental health issues as part of its digitalisation strategy. At the same time, the Group is growing along the entire value chain in joining forces with established providers from the field of e-mental health and EAP.
"Pulso Europe is globally recognised as a visionary and innovator company of reference in the field of EAP, consulting, assessment and self-help tools. Due to extensive national and international partnerships, Pulso Europe is able to manage cross-functional and cross-border projects. With its market leadership in the Benelux and Portugal and its presence in France and South East Europe, the major stake in Pulso Europe is an important step for the future expansion of the Asklepios group abroad in Europe" says Kai Hankeln, CEO of Asklepios Kliniken.
"For Pulso Europe it is great to become member of the Asklepios Group", states Dirk Antonissen, partner of Pulso Europe. "It gives us the chance to enhance and extend our service and tool offering in the field of EAP and well-being to our European customer organisations."
In this rapidly changing and complex world, the resilience and well-being of organisations and employees is a crucial factor for the future success of businesses. Companies pick up on this trend for different reasons: to decrease absenteeism , to increase productivity, to meet legal and audit requirements, to attract or retain employees, or just because they believe that a culture that stimulates well-being and engagement has a range of beneficial effects on the employees and the business as a whole.
Pulso Europe is a spin-off of the Leuven University with joint ventures in Lisbon and Athens and provides a wide range of psychosocial well-being and HR related services and products.
The Company is globally recognised as a visionary and innovator company of reference in the field of Employee Assistance and innovative evidence based tools and services for assessing and impacting psychosocial well-being.
The Company assists organisations in developing and implementing their well-being strategies, policies and programmes.
Main topics of intervention include well-being, stress and burn-out, engagement, resilience, (job)satisfaction, lifestyle, cooperation, safety attitude and their link with productivity.
For "Employee Assistance Programmes" (EAP), Pulso Europe is market leader in the Benelux and through its JV also in Portugal.
In addition, the Company provides counselling, coaching, training and consulting services to organisations, teams, managers, employees and workers either as part of or complementary to its EAP.
Pulso Europe counts 35 highly educated staff members with excellent knowledge of Psychology, Economy, Criminology, Sociology, IT,... . The Company works also with a pool of more than 350 freelance counsellors and trainers, most of them psychologists.
In recent years Pulso Europe has increased its investment efforts to develop software driven assessment- and e-mental health tools. These tools can be sold as standalone or as support or facilitator to EAP, coaching and consulting activities.
The Company has a strong partner channel with world leading companies and associations within the field of EAP.
Asklepios Kliniken GmbH & Co. KGaA is one of the largest operators of private clinics and healthcare facilities in Germany. The clinic group stands for the highly qualified care of their patients with a clear commitment to medical quality, innovation and social responsibility.
Asklepios has seen dynamic growth on this basis since it was founded more than 30 years ago. The Group now has around 160 health facilities throughout the country. They include acute clinics on all levels of care, specialist clinics, psychiatric and forensic facilities, rehab clinics, care homes and medical care centres.
More than 47.000 employees take care of the treatment of about 2.3 million patients are in Asklepios Group facilities annually.
Continued leadership and service/tool delivery
The continuation of the daily leadership of Pulso Europe will be guaranteed by the current management team:
Partners: Dirk Antonissen, Bénédicte Taymans d'Eypernon and Marcel Willems
Directors: Inge Van den Brande, Anke Luts and Sofie Vuerstaek
Also in relation to the delivery of the services and tools, the current customers can count on the continued quality and personalised follow-up by their respective account managers.